December 1, 2020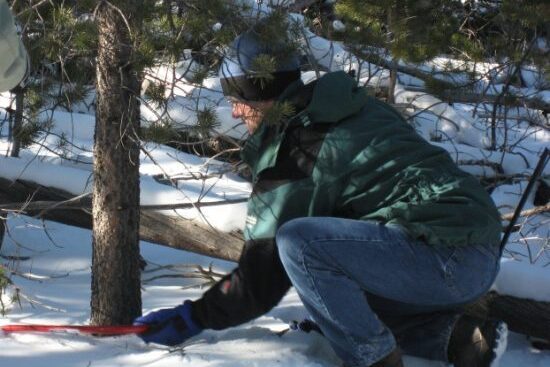 If you're looking to cut down a Christmas tree this year, please be aware that procedures and permits to do so have changed. Below is a message from the Arapaho and Roosevelt National Forests and you can find more information here.
Due to the Cameron Peak, Williams Fork and East Troublesome Fires, and the need to social distance, tree cutting opportunities on the ARP have changed for 2020.
Christmas tree permits will be available for sale beginning November 23, 2020 through January 6, 2021 for the Sulphur Ranger District only. You can purchase your permit through recreation.gov or in person at the local vendors listed at the bottom of this page. The Red Feather Lakes Sale Area on the Canyon Lakes Ranger District was impacted by the Cameron Peak Fire and as a result, Christmas trees are not available on the Canyon Lakes District this year.
The Sulphur Ranger District will have reduced tree cutting areas in Grand County this year. The Christmas tree cutting area at Elk Creek near Winter Park and Fraser will be available for cutting; however, cutting areas will not be staffed, gates will be closed, and roads will not be plowed. Christmas tree cutters are encouraged to follow social distancing protocols and, to reduce crowd sizes, disperse the hunt for that perfect tree across open areas on the Sulphur Ranger District. Weekday cutting is encouraged to avoid the larger weekend crowds.
Where is Cutting Allowed?
Christmas tree cutting is allowed throughout much of the Sulphur Ranger District. See this year's Christmas tree cutting map for details. Remember, cutting is only allowed in areas designated on your Christmas tree cutting map. You may not cut trees marked with blue paint. Here are a few suggested places:
Vasquez Road, CR 7 (first ¾ mile is open for public access)
Little Vasquez Road, NFSR 156 (access via Arapahoe Road, parking is limited to 3-4 vehicles)
Elk Creek Meadows, CR 72 (gates closed, can walk, snowshoe or ski in)
Meadow Creek, CR 84 (just over 3.5 miles to the snowmobile parking area)
Cottonwood Pass, CR 55 (access from Hot Sulphur Springs, 4 miles to parking area at the Big Meadows (FSR 253) intersection)
Areas Closed to Christmas Tree Cutting
Refer to your Christmas tree cutting map to know where you can go. You may cut your Christmas tree almost anywhere on the Sulphur Ranger District except:
The Fraser Experimental Forest, accessed by CR 73 (NFSR 160)
Indian Peaks, Never Summer, Vasquez Peak and Byers Peak Wilderness Areas
Within ¼ mile of any highway, the Winter Park/Mary Jane Ski Areas & above to Berthoud Pass
James Peak Protection Area
Developed recreation areas, such as a campground or picnic area
No cutting allowed in the Williams Fork or East Troublesome Fire closure areas.
Cutting Guidelines Throughout the Sulphur Ranger District
Tree trunk size must be six inches or less in diameter (strictly enforced)
Cut tree six inches or less from the ground
No topping of trees
No cutting trees within 75 feet of any road, trail, and all bodies of water
No cutting trees marked with blue paint.
Handsaws are best (chainsaws prohibited)
No trespassing on private property
Permits must be visible on the tree for easy viewing or visible on your dash
Pack out your own trash
Dogs must be on a leash. It is recommended to leave pets at home since walking thru deep snow is difficult for them.
Consider weekday cutting to avoid weekend crowds
Follow state and local guidance for COVID-19. Maintain social distance between you and other parties. Wear a mask when less than six feet from others.
Cut only where maps indicate cutting is allowed.
Prohibited
Chainsaws or other power saws, all-terrain vehicles, other off-road vehicles and cutting trees marked with blue paint. Snowmobiles are allowed in much of the Sulphur Ranger District when the snow level is six inches or greater. Most Forest Service roads are closed to wheeled vehicles after November 15th every year, snow depth permitting.