Housing Projects
Having quality and affordable housing options is a priority for the Town of Winter Park. Check back here for progress updates on our attainable housing projects and developments.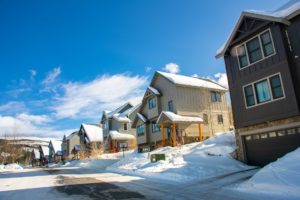 Hideaway Junction
The Hideaway Junction Project (located at the corner of Lion's Gate Drive and King's Crossing) currently comprises ten two- and three-bedroom single-family residences that are deed-restricted in order to maintain affordability and availability for the Winter Park workforce. These units are privately owned and are all currently occupied. Occasionally, one or more of these units may come back on the market.
Hideaway Place Apartments
The Town owns the Hideaway Place Apartments (located at 200 Baker Drive behind the Fireside Market & Eatery) in order to provide quality workforce housing. The 38 one and two-bedroom units are currently fully rented.
Upcoming Projects
Fireside Creek
Recently, Town Council has been working with Winter Park Partners, LLC to develop the Fireside Creek complex that would bring 70 new workforce apartment units. Winter Park Partners will manage the complex and rent the apartments. However, the units would be deed-restricted so that only people who work in the area will be eligible to rent in the new complex. Construction is tentatively set to begin summer 2021.
Hideaway Junction – Phase II
The Town is making progress with Phase II of the Hideaway Junction project. Details on this development are still in progress, but Council recently approved a grant application through the Department of Local Affairs that would help fund the utility infrastructure for the next phase of units. After those utilities are in place, the Town would look for a development partner to do the full build-out.
Winter Park Housing Authority
(970) 726-8081
50 Vasquez Road
Winter Park, CO 80482
Office Hours
Monday - Friday
8 a.m - 5 p.m.